The complex of the Rochester Psychiatric Center

(a.k.a. Rochester State Hospital or Monroe County Insane Asylum) is legendary among urban explorers and history fanatics alike. Originally built in the early 1800s as the Monroe County Almshouse (or poorhouse), new buildings and facilities were gradually added to care for the mentally ill.
Although the hospital still operates to this day, a few buildings were closed in the mid-1990s and now sit in various states of decay. One notable example we've explored previously is the towering 16-story Terrence Building which looms over Elmwood Avenue. Another is the sprawling Walters Building (originally known as the Orleans Building) which we'll be exploring today…

First, a word of caution for any would-be explorers. These buildings are extremely well protected. Both Terrence and Walters have been sealed off to the outside world for over 20 years. And since this complex is still operated as a hospital, security guards patrol the grounds 24/7.
UPDATE: This article previously stated that the State still owned the hospital, however, a commenter pointed out that Al Sigl Center purchased these buildings about 10 years ago.
The following photos were provided to RocSubway by Snoop Junkie – Rochester Urban Exploration Squad

. In an email Snoop Junkie told us, "These photos were taken some time ago by an anonymous and mostly freelance member of the group when this building was less secure than it is now. I strongly discourage any and all from trying to gain access into this building. It's extremely dangerous in many ways, but also can (and most likely will) land you in serious trouble with authorities. The building is currently completely sealed, NYS camera surveillance presence is strong, and the state will prosecute."
Alrighty, let's go inside…

The Monroe County Insane Asylum was founded in 1857. It was sold to New York State and became the Rochester State Hospital in 1891. And in 1974 it was renamed the Rochester Psychiatric Center. The Orleans (Walters) Building was constructed sometime around 1930 as an infirmary.

A newspaper article by Arthur P. Reed Jr. published in the D&C in 1934—right around the time the Howard and Orleans Buildings were first opened—heralds the facilities as being "completely equipped" to treat mental ills in "modern manner".

"Where other hospitals treat disease of the body, the Rochester State Hospital is devoted to the care and treatment of disorders of the mind."

"It is not an 'insane asylum' as that word is used in history; with its connotations of raving lunatics and mad Napoleons. Rather it is a hospital for the insane and those whose mental condition is warped to a degree that prevents their participation in the normal life of a civilized environment."

"On the one hand it prevents the mentally unsound from being a burden on their families and the community…"

"On the other. It tries to bring them a certain degree of happiness in life and perhaps, to cure them that they may resume their places in society as useful citizens."

Our journey inside Walters begins down below. This may or may not be the door our explorers used to gain entrance.
¯\_(ツ)_/¯

We're in the basement.

A dead black bird trapped between two doors – a creepy way to kick things off.

Our explorers recalled "nearly the entire basement was sitting in a 1/2″ to 1″ of water – and/or sludge."

While in the basement, our explorers came across a locked, steel door leading into a tunnel. The first time they passed by the tunnel was pitch dark, but on their way out they noticed a light coming from beyond the door. The glass in its little square window was broken out. A very long extension cord was running from somewhere within the tunnel, through the broken window to an outlet in Walters. "We had no idea what to make of it but figured that was a good time to get out of there."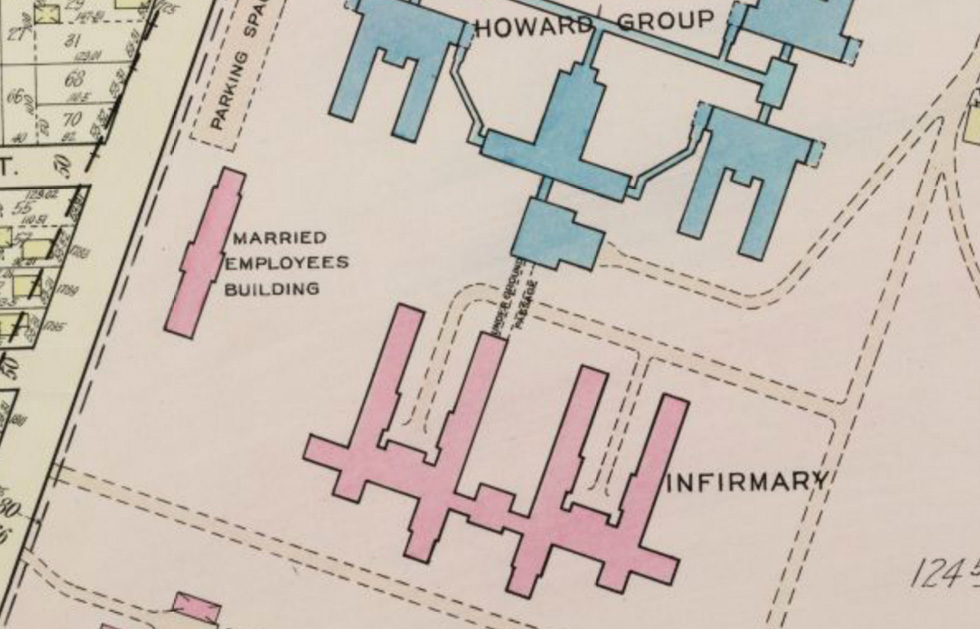 It turns out that the tunnel leads to another building in the complex—the Howard group of buildings—directly north of Walters. You can see the underground passageway on the plat map (above) from 1935. The Howard buildings—named for the state institution's first superintendent, Dr. Eugene H. Howard—are still in use today.

These are giant sanitary tanks. Signs on the walls indicate this was part of a nuclear fallout shelter. Similar tanks also exist in the basement of Terrence tower.

And here we have a Joseph Goder trash incinerator.

This may have been used to dispose of refuse from a kitchen on the floors above and to heat water for the building.

Or… perhaps to dispose of evidence of someone's alcohol problem??

Ok, I think we've seen enough of the basement. Time to find our way up to higher ground.

Hmmm. Freight elevator is out.

And we don't have our "honor cards."

There's got to be a stairwell somewhere around here.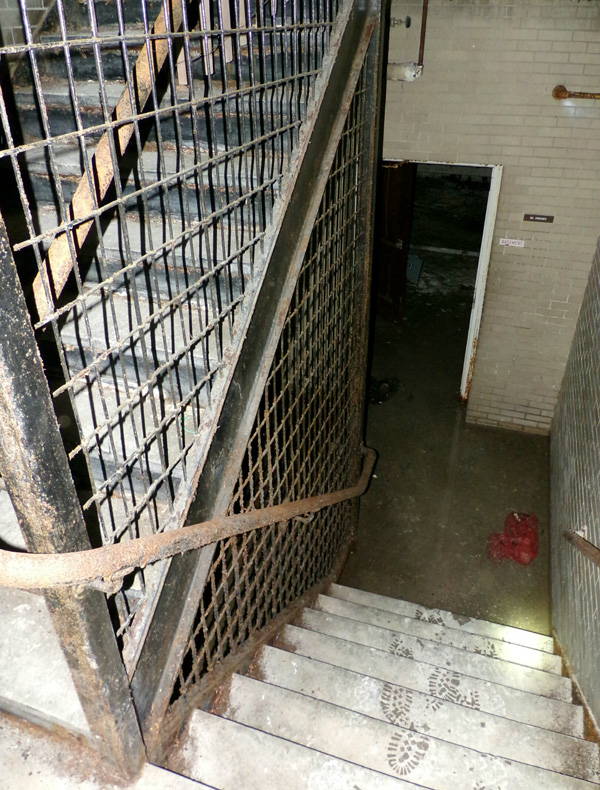 Up we go…

We appear to be just inside the building's main entrance now.

Visitors, please ring doorbell.

Here's an old bus schedule posted on the wall. Probably for carting staff and visitors between the various buildings on the complex and Strong Hospital.

We enter one of the larger spaces in the building; probably a cafeteria at one point and later used for storage.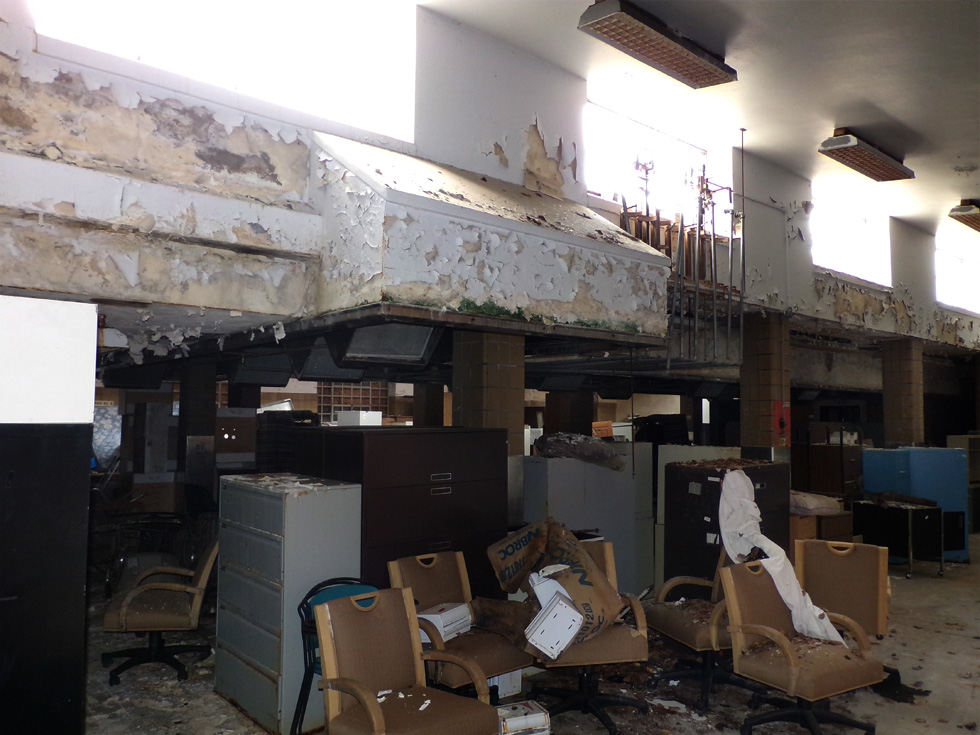 I don't typically recommend buying art in bulk, but these guys had several hundred rooms to decorate so I'll let it slide.

Someone here has been playing "Princess and the Pea."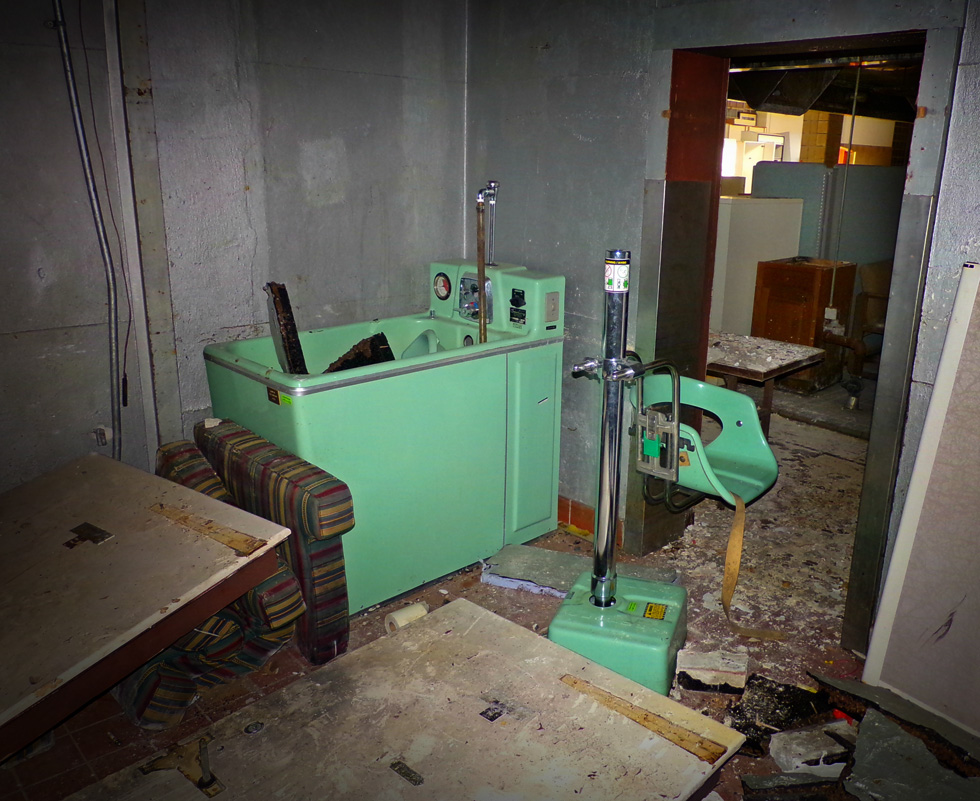 The 1934 article explains, "Many of the patients, of course, are incurable. Yet Dr. John L. VanDeMark, superintendent, is able to report a cure ratio of 20 percent."

"This the hospital achieves through treatment of physical disorders first, then, through occupational work of different variations, through rest, and the soothing influence of regulated routine."

"It endeavors to free the patients' minds from obsessions by occupying them with new interests."

"Then, the physical handicaps that often cause mental quirks are treated with the view of taking every possible course to root out the disabilities."

"In appearance and atmosphere, the Rochester State Hospital, situated on an expansive tract at South and Elmwood avenues, where open fields begin to stretch away into the distance, resembles most an ordinary hospital and convalescent home."

"This impression is heightened as one visits the wards and hospital plants, despite the depressing nature of the disorders under treatment."

"Recreation rooms are filled with patients listening to radios or phonographs or engaged in conversation."

"In the occupational therapy rooms, good-natured men and women sit working day after day on weaving or other tasks designed to give their clouded minds a focus."

"Dormitories for older folk are full of rows of beds on which lie enfeebled patients."

"Or, in the various establishments by which the hospital is made self-sustaining, good-natured inmates go placidly about their work."

"The inmates appear unaware of their condition, and, no doubt, are far happier in the regulated environment of the hospital than they were in a world to which they were maladjusted."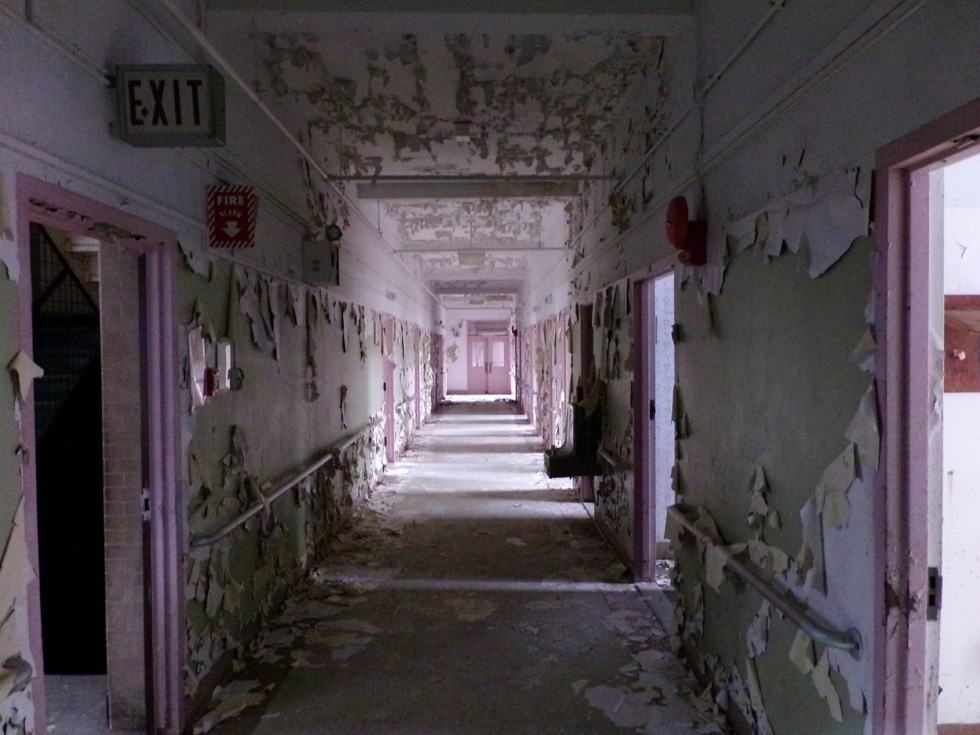 Not all of the "inmates" were happy to be safely behind the walls of the institution.

In January of 1971 the Cortland Standard reported on a woman who escaped from the hospital after being charged with murder in the drowning of her daughter.

The woman, Carol Luther, 26, of Rochester fled on New Year's Eve by kicking out a screened kitchen window. Two male patients also escaped that same day.

Carol was caught in California about a week later and sent back to the State hospital. At that time the two men were still being sought.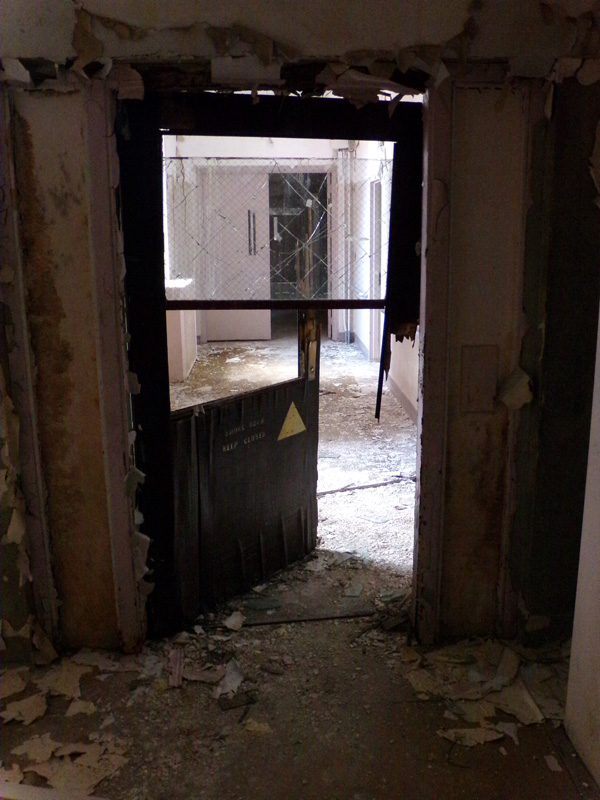 We also know that, within the walls of the hospital, patients were killed at the hands of other patients on more than one occasion.

On July 17, 1894, Mrs. Gertrude Ehinger, a 77 year old patient of 5 years was knocked down on the floor of a lavatory by another patient, Mrs. Mary McClelland. Ehinger sustained injuries which resulted in her death later in the day.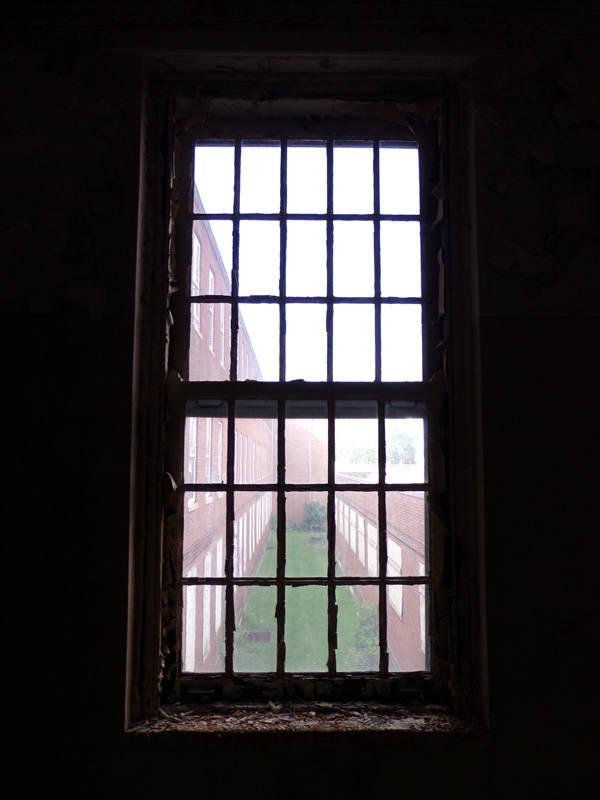 The "accidental" death of a patient on Valentine's Day, 1947, was reported on by several newspapers. Robert Grahan, 47, was found dead reportedly of natural causes, but with several broken ribs which his death certificate listed as "cause unknown".

In a report later that year, the hospital referred to Grahan's death, and stated that "theoretically, it might be possible to prevent all injuries if there were enough attendants." But that "this is impossible and inadvisable."

"Such freedom as patients can rightly have, helps in their recovery, and the risks which go with that freedom must be taken by the hospital authorities."

"The occasional serious accidents, suicides, or abuses of patients by employees are most infrequent and not the day to day routine of the hospital."

At the time of that report, it says, there had been just two verified homicides in the entire history of the Rochester State Hospital.

The report went on to say, "There are 3,100 mentally ill patients in the hospital, many of whom are disturbed and violent." In connection with the report, the hospital board revealed that they had 158 vacancies on the payroll – primarily ward attendants.

Apparently it was not easy to find people who wanted to work at the hospital. Conscientious objectors (individuals who objected to serving in the armed forces) during the 1960s were often sent to work at the hospital by state draft boards.

A 1967 newspaper story from Watertown, NY tells of one member of the Jehovah's Witnesses, David Paul Ritton, 20, who was sentenced to a year in prison for refusing to go to work at the Rochester State Hospital. The Watertown draft board had assigned him to serve at the hospital for two years, but Ritton said it conflicted with his religious beliefs and refused to report for work.

In 1914 federal investigators found conditions in the kitchens of several New York State hospitals including Rochester's to be bad "beyond belief".

Hospital chefs testified that it was custom to feed rotten food to patients.

Investigators actually witnessed several carloads of bad eggs and moldly, slimy meat being delivered to one hospital in Poughkeepsie. Some of the beef, investigators said, was decomposing in spots. It was later found that the State Hospital Commission would routinely purchase old eggs and bad meat for the institutions.

All of the eggs stored away at the Rochester State Hospital were ordered destroyed by the inspectors.

On February 20, 1894 a fire destroyed the building that contained the kitchen, dining rooms, and laundry for the entire hospital complex.

Newspaper reports spoke of "intense excitement" among the 450 inmates when the fire was discovered.

The attendants had difficulty keeping the inmates quiet, and many of them tried to break the bars on the windows.

The boiler house and electric-light plant were also destroyed, leaving the complex without light or heat.

An emergency bill had to be introduced in the State legislature that day to appropriate $15,000 to begin repairing the hospital.

The bill passed, but not before questions of negligence were raised.

One legislator indicated that fires in the Rochester hospital were "altogether too frequent" and that he understood that in one case where a fire had occurred, it had been caused by rubbish being left in the cellar.

It wasn't all bad. There were some good times as well…

On June 23, 1931 the D&C reported on an annual field day held at the hospital.

Patients and staff participated in events and some 1,500 people—mostly patients—looked on.

"Under the rustic roof of the bandstand or summer house, the hospital's orchestra, all patients, played. On the grounds band music was provided by pupils of St. Andrew's School."

"Each field event carried with it at least two prizes, some a half dozen… money for the prizes and for ice cream was earned by the patients themselves, from the articles they make for sale."

"A spirited tug-of-war was waged between the men employed outside the building, on the farm and about the grounds, and those who act as men's nurses or in other capacities inside."

200 patients and 30 employees took part in the field events. "Both men and women in the activities wore white clothes with red scarfs, giving a colorful touch to the scene."

"One group of men formed pyramids, holding on with one hand and in the other small American flags."

"Folk dances were presented in costume, and there was a clown who did a number of stunts."

The article reported that this was the first state hospital in the United States to have physical exercises of this nature for the patients. "They were originated by Dr. Charles La Moore, who began with a small group of young patients" before expanding the program.

Good times, indeed.
• • •
Tags: abandoned, abandoned places, David Paul Ritton, Dr. Charles La Moore, Dr. Eugene H. Howard, Dr. John L. VanDeMark, Elmwood Avenue, Howard Buildings, insane asylum, Joseph Goder trash incinerator, mentally ill, Monroe County Almshouse, Monroe County Insane Asylum, Mrs. Gertrude Ehinger, Mrs. Mary McClelland, Orleans Building, photography, Robert Grahan, Rochester, Rochester NY, rochester photos, Rochester Psychiatric Center, Rochester State Hospital, Snoop Junkie, Snoop Junkie Rochester Urban Exploration Squad, South Avenue, Terrence Building, Terrence Tower, urban decay, urban exploration, urban explorers, Walters Building

This entry was posted on Wednesday, July 8th, 2015 at 11:43 pm and is filed under Architecture, Rochester History, Rochester Images, Urban Exploration. You can follow any responses to this entry through the RSS 2.0 feed. You can skip to the end and leave a response. Pinging is currently not allowed.