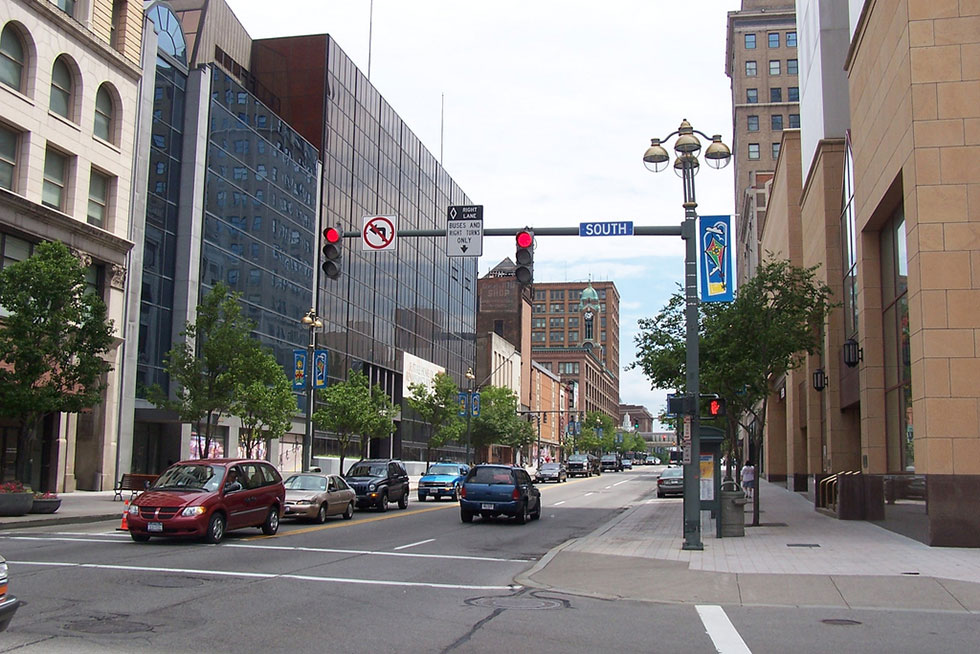 The following is a guest post submitted by Harvey Botzman.
Submit your story today.
Protected bike lanes for the full length of Main Street. This was the request from local cycling advocate Harvey Botzman in an email late last week to City officials and other cycling advocates. The east end of Main Street in downtown Rochester is about to undergo a complete reconstruction, but bike lanes aren't part of the plan. Additionally, the City is working on a plan

to improve pedestrian connections and enhance the stretch of East Main Street between the Public Market and Neighborhood Of The Arts.
So with Main Street under the microscope, now is the time for all of us to demand, not ask, for a healthier mix of transportation options and amenities for Main Street. Harvey is leaving no gray area. He's calling for "protected bike lanes for the full length of Main St. from Winton Rd. to Mt. Read Blvd." and here's why…

Look at the plans being announced

in Boston, Columbus, Detroit, Indianapolis, Minneapolis, Houston, Denver, Seattle… Protected bike lanes! It is wholly appropriate that Rochester do this with Main St. and it's time we make it happen.

Here's a great video

sent to me just today. The person is from the Netherlands (Holland) and analyzes bicycling infrastructure in the USA and offers practical, pragmatic, & cost effective solutions.
All the research which has been done in large, medium, & small sized cities clearly shows that if protected bike lanes are installed along major streets the amount of retail trade increases. Bicyclists stop & buy things; motor vehicle drivers can see the store fronts/windows easier and go to parking garages or side street parking and then wander around as pedestrians going into stores to purchase things.
This is no longer rocket science but proper city planning for increasing the number and diversity of retail establishments on Rochester's downtown retail desert.
The more excellent bicycling infrastructure Rochester has, the higher our "Bicycle Friendly Cities" designation will be. AND more visitors from outside of Rochester will come here to partake of our attributes (low commercial rents; low housing costs for employees; easy access to outdoor activities; our park system; our abundant water supply; easy access to farms & farm foods; and perhaps even being enticed to establish or move businesses here.
This is a easy inexpensive way to encourage economic development. PROTECTED BIKE LANES ALONG THE ENTIRE LENGTH OF MAIN ST. from Winton Rd. to Mt. Read Blvd.
Workers, commuters, visitors, business people, business owners, planners, recreational bicyclists will shout hurrah, when they use & see this 21st century infrastructure accoutrement!
Yours,
Harvey
• • •
You Can Help:
Contact City Hall

today and tell them you want to see protected bike lanes in Rochester. And attend this Public Open House

on the East Main Arts and Market District Plan…
Tuesday, March 10
5pm – 8pm
School of the Arts, 45 Prince St.
• • •
About Harvey Botzman:
Harvey is a member of New York State Travel Industry Association (NYSTIA) and has published several
bicycle tour guide books
for the Great Lakes region including: "Erie Canal Bicyclist & Hiker Tour Guide," "Finger Lakes (NYS) Bicyclist's Tour Guide" and "'Round Lake Michigan: A Bicyclist's Tour Guide." He is also director at New York Bicycling Coalition, Canal NY Marketing & Business Alliance, and Rochester Cycling Alliance.
• • •
Tags: bike, bike lanes, cycling, East Main Street, Harvey Botzman, infrastructure, Main Street, protected bike lanes, Rochester, Rochester NY, transportation, urban planning

This entry was posted on Wednesday, March 4th, 2015 at 9:17 pm and is filed under Opinion, Reader Submitted Stories, Transit + Infrastructure, Urban Development. You can follow any responses to this entry through the RSS 2.0 feed. You can skip to the end and leave a response. Pinging is currently not allowed.