With all of the recent flooding

in our area, RocSubway reader Michael Delaney wrote in and suggested, "a great idea for an article would be about the history of flooding in Rochester and the civil engineering that has gone into solving the issue. Beyond the dams, I've heard that there are huge storm sewer tunnels underneath the city. It would be very interesting to know more about it."
Situated at the intersection of the Genesee River and Erie Canal, Rochester's geography has blessed—or cursed—us with a long long history of great floods. Before the construction of the Mount Morris Dam (1948-1952) records indicate the City of Rochester had experienced severe flooding about every seven years between 1865 and 1950. Talk about a pesky problem.
Digging into all of the engineering marvels that have spared modern Rochesterians from most of these high waters could easily span many pages. And I promise to dedicate future posts on the subject. But for now, I want to show just how bad this problem was by highlighting just one flooding disaster that occurred in late March, 1913…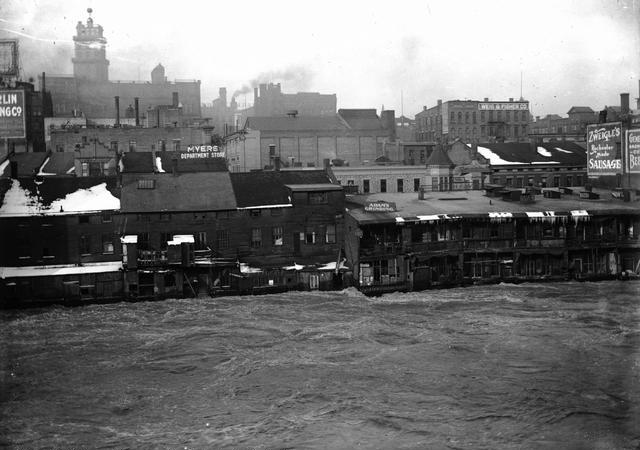 The winter had been unusually warm and rainy, and the ground already soaked to the max, when a powerful arctic weather system—stretching from Ontario down to the Gulf of Mexico—swept through. Beginning on Easter Sunday, March 23, the rains pounded all of upstate New York. Hurricane force winds and heavy sleet took down power and communication lines across the eastern half of the country, preventing the U.S. Weather Bureau from gathering information and sending warnings. And as the Genesee River swelled beyond capacity with stormwater from points south, Rochester could only wait downstream for the onslaught.

Water rose a staggering 8 feet above the top of the Court Street Dam and turned downtown streets into canals. Residents became trapped in their homes, and businesses were forced to close for days. Even the mighty presses of the Democrat and Chronicle newspaper came to a standstill. The newspaper building was located on the Main Street bridge and the presses were completely submerged underwater.
At its height, parts of downtown saw water up to 6 feet deep. These images were taken AFTER the flood waters had begun to recede.

Pedestrians throng the sidewalks of the Court Street Bridge to see the flood waters, as a few horse-driven carriages and automobiles drive past.

Flood waters swirl around the aqueduct near Broad Street, looking toward South Avenue.

Businesses on Front Street—aptly named because it fronted the Genesee River—often took the worst of the river's fury.

These are members of a rescue crew that has saved a woman from a flooded building. All records for high water were broken in this flood.

A Front Street policeman patrols his beat in a rowboat. He and another man row past the Hotel Richmond at the corner of Front and Market Streets. Front Street was home to many butchers, shoemakers, tailors, and other small shops. Eventually the entire block would be replaced with Crossroads Park (and garage). But for now, it's perfect for a cruise.

A horse and wagon stand in the middle of Mill Street at Andrews Street. Rochester Thread Company, F.A. Sherwood Company, John M. Forster Company, and Fahy Market are visible in this photo.

Men stand ankle-deep in water on Front Street. On the left is the Atlantic Supply House and on the right is the People's Rescue Mission.

Two men are carrying a coffee pot and some baskets. On the right side of the photo a man and a woman can be seen looking out of their doorway.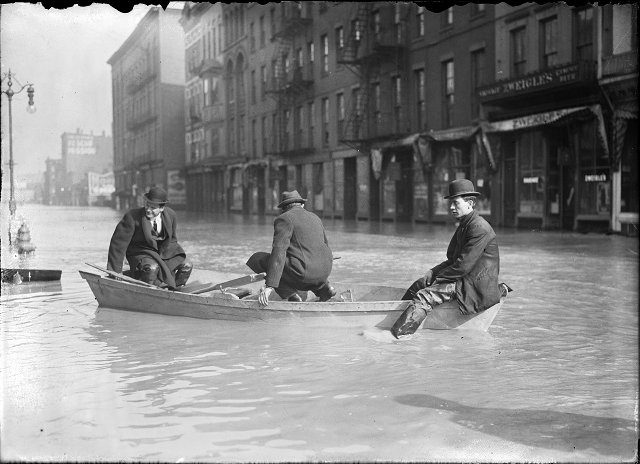 Three men row down Front Street. They are passing J.G. Zweigle's (sausage maker and saloon).

Store cellars are filled with water on Main Street East at Graves Street. All the first floors are submerged as well.

Rochesterians viewing the water on Front Street. Ice has formed in pockets on the flooded street.

A group of people stand at the edge of the flood water on Front Street in front of the Genesee Provision Company. A rope cordons off the street near Charles Adam's Grinding and the William H. Larkin Hotel.

Two men are stopped in a Ford car during the flood on Front Street. One man is holding a camera and other men stand in the street in ankle-deep water.

These shop owners are going to need a drink after this mess.

Men climb up a ladder from a rowboat to deliver food to families marooned on the upper floors of Rochester's business section. The men are pictured in front of Jacob Goldstein's Lodging House and J.C. Vine's Columbia Hotel.

Police hold back a large crowd at the water's edge on flooded Front Street. The wall in the background is that of the elevated New York Central Railroad tracks. Behind the wall is the C.P. Ford & Company the Gorsline Building (with water-tower).

Flooding has occurred not only in downtown, but all along the Genesee. This is Plymouth Avenue.

The Durand boathouse in Genesee Valley Park shows major flood damage. The Genesee River is once again peaceful.

This photo was taken along the road to Scottsville, near Black Creek. The West Shore railroad bridge is in the background. Looks like it's going to be a long day for this guy.
Tags: Aqueduct Bridge, Atlantic Supply House, Bartholomay Beer, Black Creek, Brown Street, C.P. Ford & Company, Central Avenue, Charles Adam's Sons Grinding, Court Street, Dave Solomon, downtown Rochester, Erie Canal, Erie Canal Aqueduct, F.A. Sherwood Company, F.H. Loeffler Company, F.P. Van Hoesen Company, Fahy Market, Fifth Avenue Clothes Shop, flood, Front Street, Genesee Aqueduct, Genesee Provision Company, Genesee River, Gorsline Building, history of Rochester, Hotel Richmond, Hyman Davis Shoes, J.C. Vine's Columbia Hotel, J.C. Wilson Company, J.G. Zweigle's, J.G. Zweigle's Sons, Jacob Goldstein's Lodging House, John M. Forster Company, local history, Market Streets, Mill Street, Mount Morris Dam, Myer's Department Store, old photos, old photos of Rochester, old photos of Rochester NY, People's Rescue Mission, Plymouth Avenue, Postal Telegraph Cable Company, Powers Building, Rienzi, Rochester, Rochester history, Rochester NY, Rochester Poultry & Commission Company, Rochester Thread Company, Rosenberg's Pawnshop, Scottsville, South Avenue, Varlan's Hotel, W.T. Bridle Furniture, Weis & Fisher Company, West Shore railroad bridge, William H. Larkin Hotel, William Pigeon Shoes, Zweigle's

This entry was posted on Monday, May 19th, 2014 at 7:53 am and is filed under Rochester History, Rochester Images. You can follow any responses to this entry through the RSS 2.0 feed. You can skip to the end and leave a response. Pinging is currently not allowed.