For decades it's been an inconvenient truth for Rochester. The abandoned Erie Canal turned ghost subway tunnel has long been considered a ticking time-bomb. It's widely known that the city has wanted to fill at least the west end of the tunnel for many years, citing critical safety deficiencies in the structure beneath the street surface. But, with Rochester's ongoing economic struggles and estimates into the $10's of millions, the project has been repeatedly delayed (or swept under the rug). Until now…
Thanks in part to $10 million from the new government stimulus plan, the City of Rochester expects to begin its "Broad Street Tunnel Improvement Project" this December. Make no mistake about it, the "improvement" is that the tunnel will be filled. Project Manager Tom Hack, P.E. told RochesterSubway.com that the bulk of the work will begin in April/May of 2010.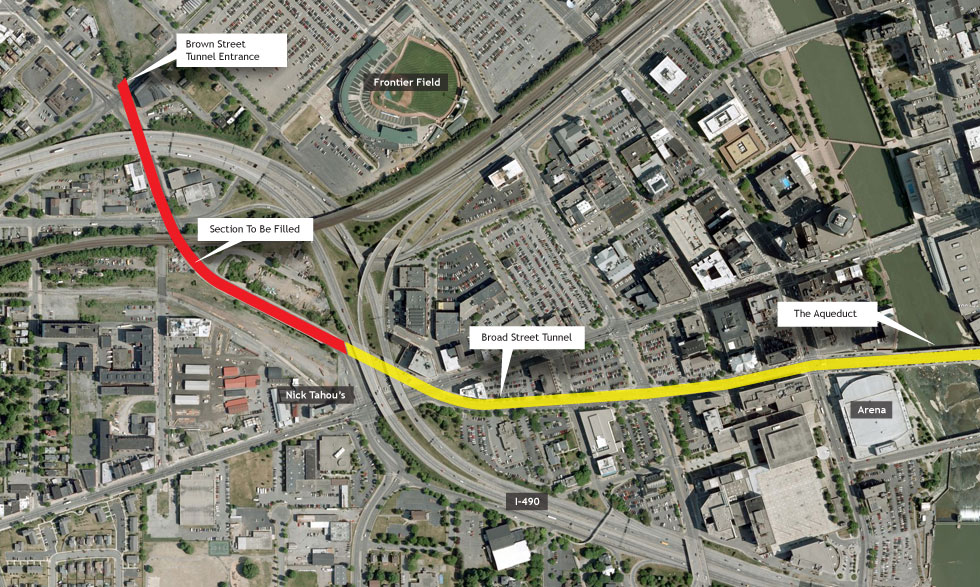 Mr. Hack acknowledged the fill to take place "from Brown Street to the RR portal next to Nick Tahou's." That's about 1,900 linear feet out of 4,600 total feet of tunnel from end to end. Paul Holahan, Commissioner of the Deptartment of Environmental Services assured us that the portion between the Aqueduct and Main Street will remain. This satellite image shows the tunnel and the portion to be filled.
The City opened the project for bidding
last month. The bids are now in and the opening is set to take place on October 19. 35 different companies responded. Those in the running include locals such as The Pike Co. and LeChase Construction—as well as contractors from as far away as Alabama and California.
Although this may have always been the likely end to the subway tunnel saga, filling it in has long been a topic of debate. Public backlash over any attempt to fill the tunnel (i.e. the "Chill-The-Fill" movement) and proposals to repurpose the old tunnel/canal have also delayed the inevitable. Most recently in 2006 a group calling themselves Advocates for the Development of Rochester's Canal
announced a plan that would strip the Broad Street surface away and convert the tunnel back into a boat canal (see image above). An interesting idea, but one that has had it's share of question marks surrounding it—not the least of which would be long term maintenance costs.
So how will this project affect the canal restoration proposal or any possible future development of the tunnel? Mr. Hack admits that although the area to be filled does conflict with Rochester's Historic Canal District Initiative, any effort to restore the canal wouldn't begin for at least 15 years, and market conditions may dictate other uses.
Roger Brown of the RRCDC
offered us a bit of solace. "I don't see this becoming a [light rail] route again – over time there will be other options available for north/south transit routes connecting into a possible Main Street Trolley almost like Denver
in concept. …if the route ever was resurrected as a light rail corridor again it would be easy to dig up." When asked if the fill would impact his group's dowtown vision plan
Roger said, "It really doesn't interfer with any of our Vision Plans – certainly it does with RRTC. Tom Grasso (ADROC
) certainly would like to see the route as a canal but that too could happen in the way distant future as well. Our plans are quite a bit less aggressive – except for the idea of a trolley on Main Street to start the ball rolling on light rail."
Yes, a trolley on Main Street would be nice. And perhaps one day we'll see it happen. For now, that may be little consolation to Rochester rail fans because one thing is certain—the fill that once was chilled is about to thaw.
…
You are welcome to read the full text of our interview with Tom Hack, P.E., Project Manager of the Broad Street Tunnel Improvement Project. And please do leave your thoughts in the comments.
Tags: abandoned subway, ADROC, Advocates for the Development of Rochester's Canal, Broad Street, Broad Street Tunnel Improvement Project, Brown Street, Chill-the-Fill, City of Rochester, Denver, downtown Rochester, Erie Canal, federal stimulus money, Main Street, New York, Nick Tahou's, Rochester, Rochester NY, Rochester Regional Community Design Center, Rochester Subway, Roger Brown, RRCDC, RRTC, satellite image, subway tunnel, Tom Grasso, Tom Hack, trolley

This entry was posted on Saturday, October 10th, 2009 at 11:07 am and is filed under Interviews, Rochester News, Rochester Subway. You can follow any responses to this entry through the RSS 2.0 feed. You can leave a response, or trackback from your own site.