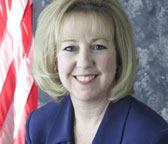 I asked Monroe County Executive Maggie Brooks if our current transportation infrastructure (highways, bus routes, etc.) are adequate to serve the needs and growth of our community moving into the future. I also asked what she thought Rochester mass-transit should look like by the year 2020 and if there was anything she'd like to see changed or improved. Read her response, then please let me know what YOU think…
Dear [RochesterSubway.com],
Monroe County is home to approximately 730,800 residents who reside in our 19 towns and 10 villages. Over 1.5 million visitors from all over the world visit our county each year to visit our beautiful parks, take part in our many first-class sporting events, and enjoy the arts and culture that our community has to offer. Clearly with all of these residents and visitors looking to experience our quality of life first-hand, we must have the proper highway and transit options in place to accommodate their needs.
I am proud to say the local transportation infrastructure we currently operate is far more than adequate – like our quality of life, Monroe County's highway and public transportation systems are world-class. The average commute for residents in our area is a scant 20 minutes, and we operate a smarter, more efficient traffic management system that keeps our roads and expressways safe and driver-friendly. By utilizing the latest cutting-edge technology at our regional transportation center, Monroe County is able to monitor strategically placed cameras and manipulate local traffic signals and bus routes to ensure the individuals who utilize our roads and highways reach their destinations safely and on time.
The development of additional public transportation and enhanced mass-transit systems in our area will undoubtedly become necessary when public demand conveys a need for these options. At present, our residents and visitors seem to be very satisfied with the transportation infrastructure we have in place, which is likely a reflection of our commuter-friendly approach to transportation management.
Thank you again for taking the time to contact me.
Maggie Brooks
Monroe County Executive
Tags: bus routes, commute, highways, infrastructure, Maggie Brooks, mass transit, Monroe County, New York, NY, public transportation, Rochester, traffic, transportation center

This entry was posted on Saturday, February 28th, 2009 at 12:51 am and is filed under Interviews, Rochester News, Transit + Infrastructure. You can follow any responses to this entry through the RSS 2.0 feed. You can leave a response, or trackback from your own site.